Erma Vernice Franklin (March 13, 1938 – September 7, 2002) was an American gospel and R&B singer. Erma was the elder sister of American singer / musician Aretha Franklin and singer / songwriter Carolyn Franklin.
Erma Franklin's best known recording was the original version of 'Piece of My Heart', written and produced by Bert Berns, and recorded in 1967, for which she was nominated for a Grammy Award.
Erma wielded a powerful, emotive voice that she could carry with a dancer's grace – or unload with a sledgehammer's heft. "Piece of My Heart" was originally written for Erma by the great songwriting duo of Jerry Ragavoy and Bert Berns. She tears into the chorus with a terrifying passion that has haunted many singers since.
I guess I'm exactly what Aretha said – I am my own woman.
When I sing, I like to know the words particularly well. Only in that way I can give a tune a fuller conception and communicate to an audience. If you really mean what you're singing, if you really know what you're going into, then you don't have to hold back at all!
I want to sing, because I think that's the thing I do best.
Erma Franklin is everybody's soul sister. Her voice, richly reflecting her keen insight into human feelings, probes the soul and soothes it like the warm words that pass between sister and brother. Erma speaks out for people, whether they dream in a corner or boogaloo in a crowd – which means everybody. Even you and me.
So welcome Erma Franklin as you would family. Soft on love and tough on trouble, Erma has only understanding to offer, adding to joys and diving sorrows, always speaking freely from her own soul and showing her good faith. Her voice is that good – it tells you all you need to know. When she signs her beautiful big hit, 'Saving My Love For You', you really understand, because it's true and Erma is a true soul sister.
Changing places with some of today's top composers, Erma interprets their feelings as they, in their moment of deepest love, hope and prayer, probably felt. What makes her readings of 'By The Time I Get To Phoenix', 'For Once In My Life', and 'Baby I Love You' so new and religiously exhilarating is that she adds her own personal sense of having been there, too. And when it's all communicated like a poem penned especially for you – that's soul. From the soul sister herself, Miss Erma Franklin!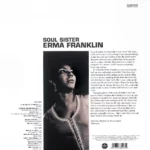 Rhythm & Blues Editor, Billboard